10/18/2018
SC Region #3 Housing Authority - Community, law enforcement come together
**** Sharing Article Posted in the Augusta Chronicle
By Laura McKenzie
Posted Oct 10, 2018 at 10:23 PM
Updated Oct 10, 2018 at 10:24 PM
Community, law enforcement come together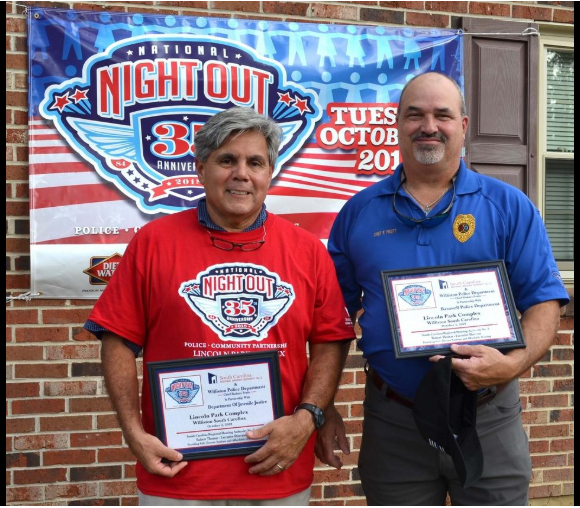 Residents of S.C. Regional Housing Authority #3 apartments, local law enforcement, EMS and a variety of health and social services organizations came together for National Night Out.
The local event was held Tuesday, Oct. 2 from 4 to 7 p.m. at the Lincoln Park Complex on Windsor Road in Williston.
According to the National Night Out website, "National Night Out is an annual community-building campaign that promotes police-community partnerships and neighborhood camaraderie to make neighborhoods safer, more caring places to live. National Night Out enhances the relationship between neighbors and law enforcement while bringing back a true sense of community. Furthermore, it provides a great opportunity to bring police and neighbors together under positive circumstances."
"This provides an opportunity to provide positive relationships with law enforcement, said Williston Police Chief Rodney Pruitt.
"We have a good relationship with law enforcement," said Robert Thomas, director of S.C. Regional Housing Authority #3. "Sometimes all it takes is a little communication."
He said small towns have a greater opportunity to have closer bonds within the community. "Law enforcement is actively trying to learn about our youth."
Chief Pruitt said this is the first time the Williston Police Department has co-hosted an event like this. "It is important to be seen in the community, especially by younger folks. They need to know we are someone who they can trust."
"We look forward to doing this again in the future," he said.
"I think it is fantastic," said resident Monica Abney as she helped her child get a hamburger and chips.
Williston Mayor Jason Stapleton welcomed everyone to the event which includes numerous booths by local agencies to provide information to residents. Additionally, Thomas presented certificates of appreciation to area law enforcement agencies, EMS, fire, health and human service organizations. Those attending were also treated to a supper of hamburgers, chips and drinks.
National Night Out area partners included police departments in the municipalities of Barnwell, Blackville, Bamberg, Fairfax, Hampton and Williston; fire departments in Williston and Barnwell; sheriff offices in Barnwell and Orangeburg counties; S.C. Dept. of Natural Resources, Polly Best Center, SC Works, Low Country Health Care System, Early Intervention Service, AT&T, Barnwell Dept. of Social Services and the Cumbee Center.
---
CCHRCO CC News: If you are a member organization and would like to share news from your organization, please click CCHRCO Member News.