04/21/2017
New Logo Brand & New Website for Carolinas Council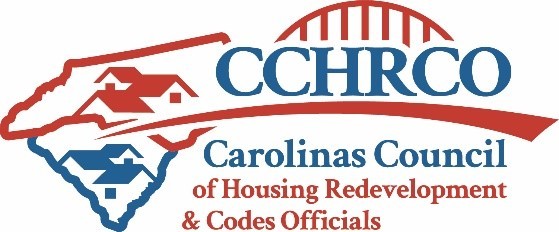 Carolinas Council of Housing Redevelopment & Codes Officials (CCHRCO) was recently rebranded with a new logo. The logo design was donated by Brooks Jeffrey Marketing, Inc. www.BrooksJeffrey.com and is used on the new CCHRCO website www.CarolinasCouncil.org
The goal of the new logo design was to again incorporate the red and blue state colors of North & South Carolina with a stylized "bridge" connecting the two states, showing stylized "housing" in both states. The new logo is easily identifiable & easy to read. Importantly, the new logo will be easy to reproduce on a variety of marketing/promotional products to further promote the CCHRCO.
Brooks Jeffrey Marketing, based in Mountain Home, Arkansas, was awarded the contract for the new CCHRCO website. Established in 1984, Brooks Jeffrey Marketing provides integrated marketing solutions: advertising, branding, photography, public relations, promotional items, web sites & social media campaigns to businesses, government entities & non-profits throughout the US. Brooks Jeffrey offers customized integrated marketing solutions to Housing Authorities.
The new 'responsive' website includes the new logo, branding and colors. This new "responsive" website allows users to easily navigate the website no matter what device is used in viewing the website (desktop, laptop, tablet, smartphone).
Some of the features/ functions on the new site include:
- Calendar with e-commerce functions to allow easy conference registration/ payment
- Membership e-commerce application for joining/ paying online
- CCNews feed from the home page for quick review of the latest news posted on the site
- Social media integration, so content added to the site can be posted to social media without leaving the CCHRCO site
- Poll Module allowing questions to be created for members to "vote" on
- Procurement and Resources
- Member & Vendor Directory improved with additional search / sort capabilities & expanded fields to list more staff from a HA
- Membership Locations map that will allow all members to be featured on a Google map embedded in the site; this map will allow site visitors to gain directions to the HA quickly view the HA logo or office photo, check hours, link to the main phone number & more
- Member only portal with login which will allow CCHRCO to share information only with members or vendors (similar to the CPC site current functions)
- Notifications Module that will allow CCHRCO site administrators to send emails to predefined categories of members (by HA/Agency, by Vendor/Business Name, By Person, By State, By All, by CCHRCO Board Members, Officers, Committee Members or by Titles).
All members & vendors are encouraged to visit the site. Website administrators will be able to publish to the subscriber list important information including upcoming calendar events, latest CCHRCO news, when new poll questions are posted and more.
For more information about the new CCRHCO logo, branding or website, please contact Donna Lamer, President, CCRHCO at 803.774.7311 or donna.lamer@sumterha.org .